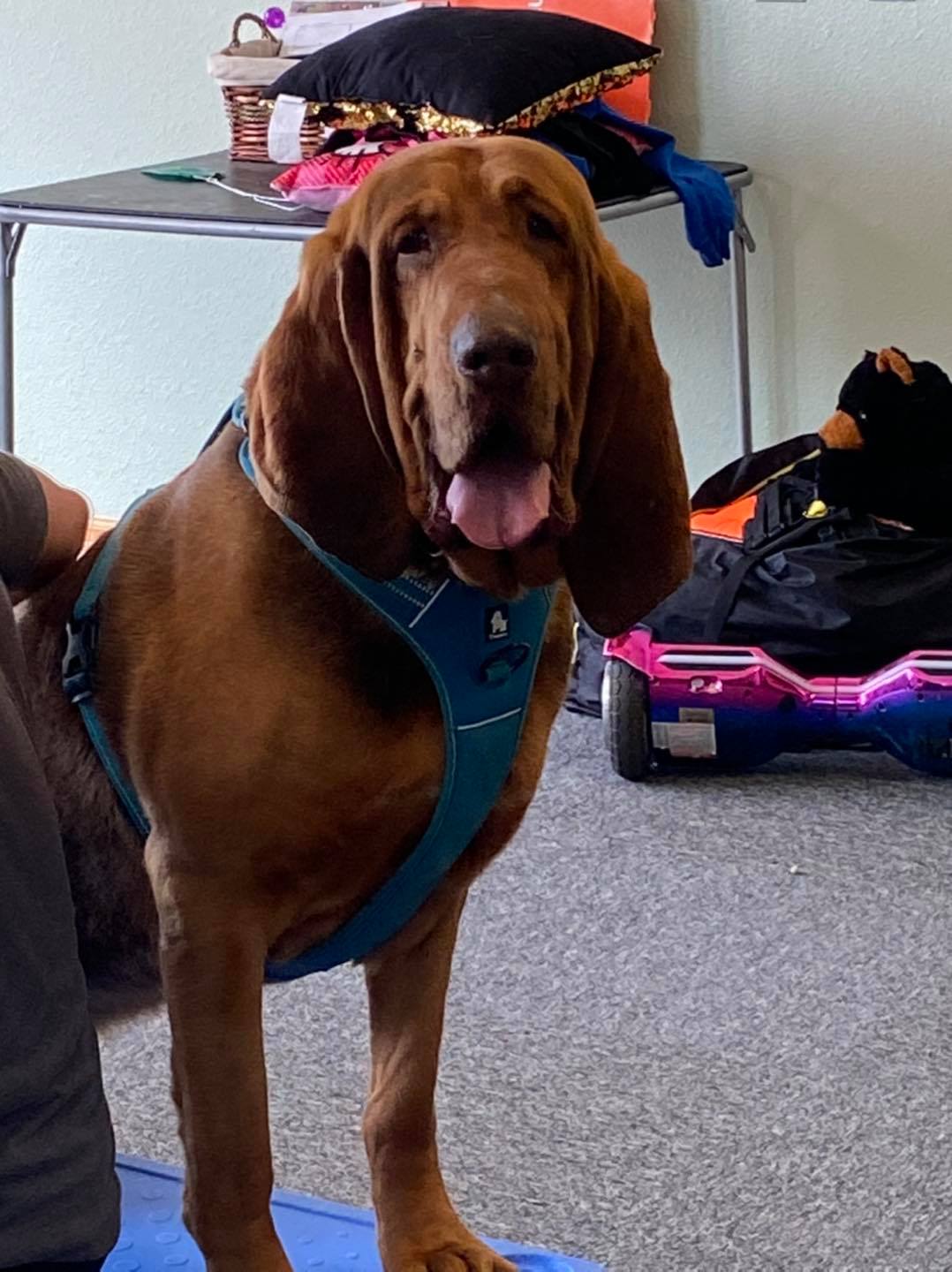 Check out Our Bloodhound Pictures
Welcome to the bloodhound gallery of Hound Haven Training Center and Rescue in Cheyenne, WY! Here, you can view bloodhound pictures and learn about those that are available for adoption. We hope that you'll take the time to browse through our bloodhound gallery to get to know our amazing and talented dogs.
Hounds are currently in training. Check back soon!
Some of our dogs need a forever home. If you're interested in adopting a bloodhound, please feel free to call or email Hound Haven Training Center and Rescue. Our bloodhound training center would love to discuss with you how you can give our furry friends a loving home. We look forward to hearing from you soon!

Hi everyone, meet Miss Lucy! Lucy has been with a foster family learning how to live in a home and has come out of her shell so much! Her foster family worked with her on learning how to wear her beautiful black harness, which is still a bit of a work in progress. She still has some anxiety around equipment (collars, leashes) from her previous life. She will need continued training and lots of patience/ positive reinforcement training to continue to help her along with this process. Lucy also struggles with anxiety around loading in a car and will need further training on this as well. She is housebroken. She previously lived with a tiny human and has done well learning how to co-exist in the household with toys, stuffed animals and sharing. She loves to play ball! Lucy absolutely loves her humans and loves to get attention. She had a bit of a rough start in life but is now the star of her block greeting neighbors and dogs alike! She would probably do best in a home by herself as she still treasures her bed and toys. She is current on her vaccinations, spayed, microchipped and is 5 years old. We will be looking for that special home for Lucy, she is an amazing girl!
Hi everyone, we would like you to meet Merlin and much like his name he is a bit of a magical boy! Don't let this pups coat of many colors fool you he has personality for MILES! Merlin has diabetes, he will require daily shots and monitoring of his nutrition and glucose levels. He does great with his care and has never fussed or growled. Because his condition went undiagnosed for so long and the lack of nutrition in his early months, at 7 months old he is 34 pounds. He will likely mature to be a quite small Bloodhound. Merlin also has cataracts which we have been told by his specialist that they will eventually reabsorb, and he will be far-sighted. At his most recent check up his right eye now has 80% vision and his left has 60%. His specialist expects that his left eye will catch up to his right eye and both eyes may continue to improve. He sees quite well now, especially in the dimmer light. He will not need any surgery on his eyes for this. Merlin is housebroken and can go for nine hours at night without an accident. He has started to learn his basic cues such as "sit" and "touch", he has proven to be a fast learner. In his previous foster home he spent a great deal of time off leash and has a great recall.
Merlin is a wonderfully sweet puppy who loves his humans and is always up for picking out a new fun toy to play with. Merlin's ideal home would be someone who could provide the structure for making sure he receives his shots at the same time each day and has the time to manage his disease. He is still learning proper socialization with other dogs and recently moved to a new foster home where he is living with several new Bloodhound friends. He is doing quite well and has an older female hound whom he is quite fond of.
If you would like more information about Merlin feel free to email info@houndhavenrescue.com or if you would like to submit an application you can find those here on our site. Thank you!